Description
Android 11 is nearing stable build as Developer Preview 4 went live earlier this month with several new changes and advancements. The search giant today updated the Android 11 Features overview page with a lot of new information based on the changes. The company informed about the Android 11 based new iconography related to the 5G network.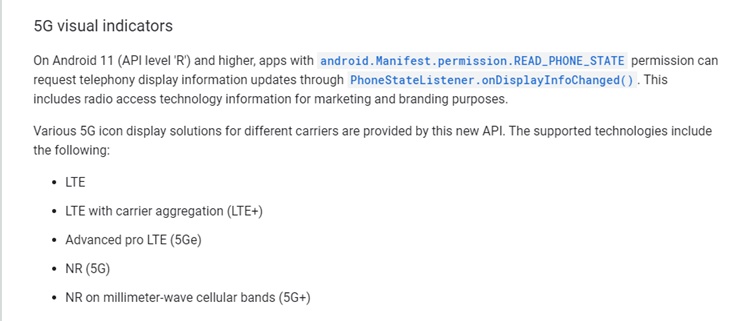 In addition to the already present telecommunication technologies, the Android 11 will have three different labels for 5G networks. It will further fuel the confusion rather than clearing the buzz. However, the new information would be helpful only if you know the exact meaning of these labels.
The signal iconography got three new labels of 5G, 5G+, and 5Ge in addition to the already present LTE and LTE+ which derives plain 4G and 4G with carrier aggregation respectively. However, the "5Ge" label is for LTE Advanced Pro which is not regarded as the pure 5G network. It is just an upgrade of 4G LTE advanced pro-technology with speeds of up to 3Gbps using carrier aggregation technology. AT&T and some other carriers throughout the world using advanced LTE networks will be labeled as "5Ge" on Android 11.
The pure next-generation networks will use "5G" and "5G+" labels on Android 11. Precisely, the "5G" label is dedicated for sub 6GHz network, while the millimeter-wave will show as "5G+" with greater speeds in comparison with the 6GHz network. However, the millimeter-wave network is blocked easily by trees, rain, and even with any small object in between. Here's the list of new labels with small detailing:
LTE
LTE+ – Carrier Aggregation
5Ge – Advanced Pro LTE
5G – NR on 6GHz
5G+ – NR on millimeter-wave cellular bands (5G+)
It will help to ease confusion and will bring transparency to users about the network they are using.