In Arsenal's win over Southampton, Eddie Nketiah worked tirelessly and was rewarded with a goal by closing down Alex McCarthy. He typifies Mikel Arteta's demands.
Mikel Arteta left no doubt as to what he expected of his players when he arrived at Arsenal. His speeches of non-negotiables made it quite clear: the players would have to adapt to his coaching style, his tactical approach on the pitch, and his expectations of their character and work-rate otherwise they would not be a part of the team.
There are several players who have flourished as a result of this hardline. Others have bent their will to Arteta's and responded accordingly. Others yet are on the outside looking in. And on Thursday, perhaps no player typified the level of commitment that Arteta demands from his players than Eddie Nketiah.
More from Pain in the Arsenal
Playing as a lone centre-forward in 30-plus-degree heat, Nketiah worked tirelessly. He harried and harassed the Southampton defenders, closed down Alex McCarthy time and again, ran the channels, held up the ball, and helped lead Arsenal's defensive work from the very front, something that Arteta has been keen to emphasise in his coaching approach.
Speaking to the official club website after the match, Nketiah made it clear that this is how he likes to play:
"For me personally, I always try to give my all for the team, so things like that, I can just smell a bit of uncertainty from the goalkeeper and I just kept pulling in. I've done that about 100 times, so it's nice that one of them leads to a goal. I think that's just the way I play. I always try to be a nuisance and put my weight around and chase for the team, run in behind and try and hold the ball up."
Arteta, too, spoke about the demands he places on the attacking players in his post-match press conference, praising the work-rate that Nketiah showed to lead the line:
"Eddie, since I joined, the maturity and the personality that he plays every game with is incredible. I demand a lot of our forward players to put the opponent under pressure and they've done it. A lot of the goals we score are because of the errors that we force on the opponent. In that heat, to keep chasing players and putting them under pressure, sometimes it's not a really nice thing to do. But obviously when you get a goal from the mistakes they've made – which could have caused a few more goals – it's really important."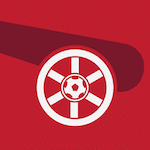 Want your voice heard? Join the Pain In The Arsenal team!
The goal, of course, was the ultimate example of Nketiah's work-rate paying off. Reminiscent of Pierre-Emerick Aubameyang's goal against Watford last season, Nketiah chased down a backpass to McCarthy, forced an errant pass from the Southampton goalkeeper, before then rolling the loose ball in the empty net. It was nothing less than he deserved.
Equally as pertinently was that he continued to close McCarthy down. This was not the only occasion that Nketiah put pressure on his clearances, forcing a mistake and helping his team to recover possession. It is this dirty work that allows Arsenal to control the match. It hands them the ball and lets them build pressure once again.
Nketiah's sheer effort was hugely impactful for Arsenal. Arteta demands nothing less, and the young striker is beginning to bloom as a result.