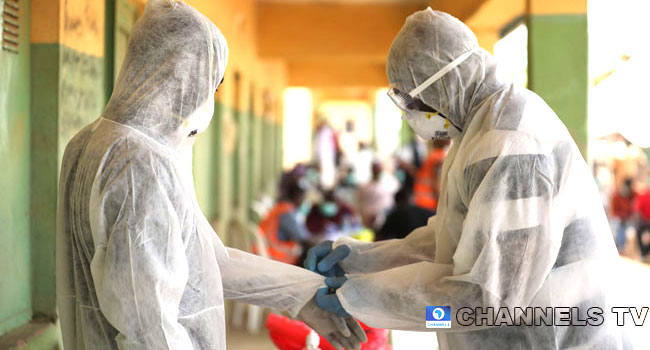 Four more states have recorded index cases of coronavirus, raising the figure of states that have confirmed at least one case of COVID-19 in the country.
They are Taraba in the North-East, Kebbi in the North-West, Ebonyi in the South-East, and Bayelsa in the South-South.
The Nigeria Centre for Disease Control (NCDC) announced this in an early-morning tweet on Monday.
91 new cases of #COVID19 reported;

43-Lagos
8-Sokoto
6-Taraba
5-Kaduna
5-Gombe
3-Ondo
3-FCT
3-Edo
3-Oyo
3-Rivers
3-Bauchi
2-Osun
1-Akwa Ibom
1-Bayelsa
1-Ebonyi
1-Kebbi
As at 11:50pm 26th April- 1273 confirmed cases of #COVID19 reported in Nigeria.

Discharged: 239
Deaths: 40 pic.twitter.com/261wewYfEg

— NCDC (@NCDCgov) April 26, 2020
It revealed that Taraba recorded six cases of COVID-19, while Kebbi, Ebonyi, and Bayelsa recorded one infection each.
The index cases were part of the 91 new infections announced by the health agency in its latest update on the outbreak of coronavirus in Nigeria.
READ ALSO: Reps To Resume Plenary On Tuesday
Other states where new cases were reported include Lagos – 43, Kaduna – five, Gombe – five; the Federal Capital Territory (FCT) – three.
The rest are Bauchi – three, Ondo – three, Oyo – three, Edo – three, Rivers – three, Osun – two, Sokoto – eight, and Akwa Ibom – one.
This brings the figure of total confirmed cases of COVID-19 in the country to 1,273, with the death toll also rising to 40 while 239 people have been discharged.
A total of 32 states, and the FCT have recorded at least one case of COVID-19 while the NCDC also revealed that four states recorded new deaths.
They are Osun – two, Oyo – one, Rivers – one, and Katsina – one.
See the case summary of COVID-19 in Nigeria as of April 26 below:
| | |
| --- | --- |
| Total Samples Tested | > 10918 |
| Total Confirmed cases | 1273 |
| Discharged | 239 |
| Death | 40 |
| States Affected | No. of Cases (Lab Confirmed) | No. of Active Cases | No. Discharged | No of Deaths |
| --- | --- | --- | --- | --- |
| Lagos | 731 | 584 | 128 | 19 |
| Abuja FCT | 141 | 103 | 35 | 3 |
| Kano | 77 | 76 | 0 | 1 |
| Ogun | 35 | 29 | 5 | 1 |
| Gombe | 35 | 35 | 0 | 0 |
| Osun | 34 | 14 | 18 | 2 |
| Katsina | 30 | 24 | 4 | 2 |
| Borno | 30 | 28 | 0 | 2 |
| Edo | 25 | 14 | 8 | 3 |
| Oyo | 21 | 10 | 9 | 2 |
| Akwa Ibom | 12 | 2 | 9 | 1 |
| Kaduna | 15 | 9 | 6 | 0 |
| Bauchi | 14 | 8 | 6 | 0 |
| Sokoto | 10 | 10 | 0 | 0 |
| Kwara | 11 | 9 | 2 | 0 |
| Ekiti | 8 | 5 | 2 | 1 |
| Ondo | 8 | 6 | 2 | 0 |
| Delta | 6 | 5 | 0 | 1 |
| Rivers | 6 | 2 | 2 | 2 |
| Taraba | 6 | 6 | 0 | 0 |
| Abia | 2 | 2 | 0 | 0 |
| Enugu | 2 | 0 | 2 | 0 |
| Niger | 2 | 2 | 0 | 0 |
| Jigawa | 2 | 2 | 0 | 0 |
| Zamfara | 2 | 2 | 0 | 0 |
| Benue | 1 | 1 | 0 | 0 |
| Anambra | 1 | 0 | 1 | 0 |
| Adamawa | 1 | 1 | 0 | 0 |
| Plateau | 1 | 1 | 0 | 0 |
| Imo | 1 | 1 | 0 | 0 |
| Bayelsa | 1 | 1 | 0 | 0 |
| Ebonyi | 1 | 1 | 0 | 0 |
| Kebbi | 1 | 1 | 0 | 0 |
| Total | 1273 | 994 | 239 | 40 |