In an interview with ESPN, The Undertaker talked about the infamous Montreal Screwjob and how it could have been avoided if he had been chosen to perform instead of Shawn Michaels. The match is infamous for being one of the most controversial WWE decisions to date. 
WWE Chairman Vince McMahon made the abrupt choice shocking everyone backstage. Vince McMahon cheated his own Superstar. Undertaker says Bret knew something was off before the match, but went into it nonetheless.
"Bret's radar was up, he felt like something might go down and so I was kind of working my way around. I kept asking Earl Hebner, 'Hey, did you hear anything? Is anything going on?' Every time I asked him, it was 'no.' I don't think he found out until late, really late, what was going to happen," Undertaker said.
No one except the authority knew what was going to take place. Undertaker recalled that they made him go to Vince's office to watch the match. He believes that they made him go, so there wouldn't be any interference with their plans. 
"Then, it was getting close to match time, and this is one place where I let my guard down. Someone said, 'Hey, why don't you go watch the match from Vince's office?' I was like, 'Okay, that's fine.' So I went back, sitting in Vince's office, watching the match and then it all went down.
"All hell breaks loose. I ended up working my way to Bret's locker room. Just like, 'I cannot believe this just happened.' I left there, and I went to get Vince, 'Vince has got to address this to Bret'. I left there and was going to Vince's office, and Vince was already on his way," Undertaker recalls. 
The rest of the Superstars in the locker room were also unhappy with the way things went down. Vince McMahon got a warning that he would be punched. And it happened, Bret punched Vince McMahon, and the news spread like fire. 
A trip down the memory lane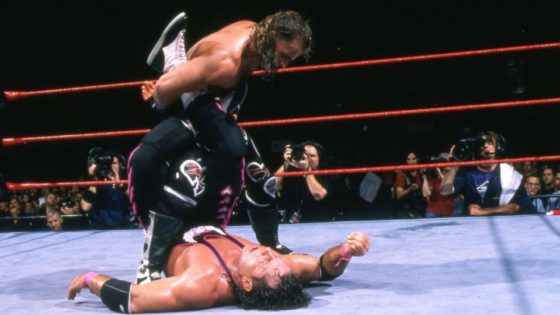 The Montreal Screwjob was an unscripted event that happened on the 1997 Survivor Series WCW title match between Bret Hart and Shawn Michaels.
McMahon wanted Bret to lose the title the night, but The Hitman was reluctant to lose in his hometown. He assured Vince that he'd drop it the next night on RAW. 
McMahon wanted things his way, and he made it happen. During the match-up, Michaels applied the Sharpshooter on Hart, and the official called for the bell even though Hart hadn't tapped out. 
This incident is something that the fans still abhor. It was an insult to the Hall of Famer, and WWE learned a thing or two.
Undertaker feels he should have been part of the match
Both Hart and Michaels were going through a rough patch, in terms of their relationship. Yet, knowing everything Vince decided to execute his plan. The Undertaker feels if he were in the match instead of Michaels, things would have been better. 
"I was p***ed about the whole thing because I felt like I possibly could have been used to get what we need. Bret would have dropped it to me, and I could have dropped it to Shawn right after that. There was a different way to do it, but Vince had to cover his bases," Undertaker explained. 
Bret Hart and the Undertaker were quite close then. If WWE had planned the match in the way Undertaker put forth, fans could have witnessed a great match.